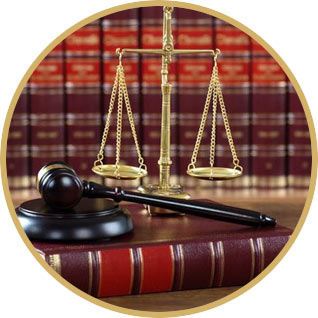 Many types of disputes can arise out of a property transaction. In fact, the variety of property and land related legal disputes and problems that can and have often arisen in the Indian Real Estate scenario are astounding. Some are discussed below:
Landlord And Tenant Disputes:
The disputes may arise due to non-payment of rent, enhancement of rent, fixation of fair rent, eviction of the premises or for any other reason. If the matter falls within the jurisdiction of the Rent Controller, one may have to file petition only before the Rent Controller for relief.
Disputes concerning Stamp Duty and Under Valuation:
There can be cases where you may have grievance with regard to the Valuation and the payment of Stamp Duty on your property transfer. The authorities who can dispense justice or remedy to your grievances are District Registrars of Registration and Inspector General of Registration who adjudicate such disputes.
For dispute issues, some of which are discussed below, the logical recourse is to approach a competent court for resolving the disputes.
One of the unsavory events arising during a property transaction can be when the vendor of a property who initially had agreed to sell his property to the purchaser at an agreed sale consideration, changes his tack. The party that is affected, i.e. the purchaser has every right to file a suit against the vendor for specific performance of the Agreement. If the Court finds the claim valid, it may adjudicate and pass an order for execution of the Sale Deed in the favour of the purchaser.
If the vendor fails to transfer the property in the purchaser's name despite the Court's order, the latter may file an execution suit. On the basis of the Execution Suit, the Court will take necessary action to get the property registered in your name as per its order.
You might find yourself in a situation where your title to the property is challenged or found to be questionable or defective. This circumstance makes it necessary for you to get an order from the Court on your title by filing a Declaratory Suit in a Court of Law.
If a property is under occupation of a trespasser, a suit for permanent Injunction can be filed by the owner. This will prevent the illegal occupant of the property from interfering with the possession and occupation of the property by its rightful owner.
In cases where there are co-owners of a property and one of the co-owners wants to get his/her share in the property to be enjoyed by separately and independently, he/she may have to file a suit for partition.
If one has lent money on the security of an immovable property by way of mortgage, and wants to realize it, he/she may have to file a suit for recovery of the money due from the mortgagor. If that fails to materialize, he/she may sell the property mortgaged for realizing the money.
Disputes before quasi-judicial authorities
There are different types of litigations concerning land revenue, land acquisitions, title documents etc, which are heard and disposed of by several quasi-judicial authorities such as Tahsildars, Assistant Commissioners, Deputy Commissioners, Survey Settlement Commissioners, etc. Good knowledge of authority of these officers can be very helpful in seeking legal relief.
The alternate relief/remedies available to a party can be sought from a Court of competent jurisdiction for specific performance, compensation for loss, recovery suits, eviction suits, interpretation of a will, declaratory suits, and partition of joint family property and so on.
Pradeep Kumar & Co., a reputable and well-established consultancy firm and experienced in Court Marriage Ghaziabad Consultants, plays a pivotal role in offering comprehensive legal guidance and support to individuals and families embroiled in property disputes within the Ghaziabad and Delhi NCR region. With a rich legacy of expertise in the legal domain, Pradeep Kumar & Co. has emerged as a trusted and reliable partner for those seeking resolutions to complex property-related conflicts.
The dedicated team of legal experts at Pradeep Kumar & Co. brings a wealth of experience and in-depth knowledge of property laws, regulations, and precedents, enabling them to provide tailored advice and strategies to address the specific needs and concerns of their clients. They are well-versed in the intricacies of property transactions, ownership disputes, land titles, encumbrances, and other critical aspects of property law.
Whether you are a property owner seeking to resolve disputes related to land boundaries, ownership rights, or lease agreements, or if you find yourself entangled in disagreements with family members or business partners over property assets, Pradeep Kumar & Co. offers a wide range of legal services designed to navigate these challenges effectively.
Moreover, the firm's strategic location in Ghaziabad, within close proximity to the bustling legal hub of Delhi NCR, positions them as an ideal choice for clients seeking expert guidance on property disputes in this region. Their consultants are not only well-versed in local laws and regulations but also have a deep understanding of the unique intricacies of property disputes that may arise in Ghaziabad and its surrounding areas.
Pradeep Kumar & Co. takes pride in its client-centric approach, ensuring that each case is handled with the utmost care, discretion, and professionalism. They prioritize open communication with clients, ensuring that all legal processes and potential outcomes are explained in a clear and comprehensible manner, empowering clients to make informed decisions about their property disputes.
Contact Us For Property Dispute Matters in Ghaziabad Delhi NCR
Pradeep Kumar & Co.
Address: 725, Satyam Enclave
Near Rakesh Marg, Ghaziabad-201001
Phone: 9213727837
Website: 
www.marriage-registration.in