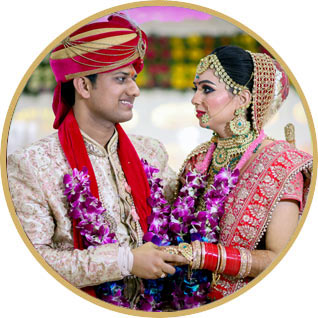 ARYA SAMAJ MARRIAGE IN GHAZIABAD, DELHI, GURGAON, NOIDA
Arya Samaj marriage is open to all people. People of any caste, creed or religion can opt for arya samaj marriage. Arya samaj marriage is basically a simple affair. The certificate issued after the marriage can be produced for marriage registration in marriage registrar's office. It is very much different from the glitz and glamour of traditional weddings. The marriage is performed in the presence of sacred fire which is the most meaningful source. The priest or pandit chants the mantras and explains their meaning to the couple.
Many people opt for arya samaj marriage as it is as valuable as traditional marriage and takes less formailities and time compared to normal wedding. It is also best option for people who are not strict followers of traditions and customs of society.
The main rituals of Arya Samaj Marriage are as follows:
Madhuparka
Kanyadan
Havanv
Pani Grahan Sansakar
Aashirwad
1. Madhuparka:
The Arya Samaj marriage rituals commence with Madhuparka, a ceremonial welcome of the groom. This ritual is deeply symbolic, as it signifies the groom's arrival as an esteemed guest and a prospective partner in the bride's family. Madhuparka involves offering the groom a mixture of honey and curd, symbolizing the sweetness and purity of the relationship about to be forged.
2. Kanyadan:
Kanyadan is the heart of the Arya Samaj marriage ceremony. It represents the sacred act of giving away the bride by her parents. During this poignant ritual, the bride's father places her hand into the groom's, signifying the transfer of responsibility and care from her family to her husband. It is a moment that encapsulates profound emotions and symbolizes the trust and faith placed in the groom.
3. Havan:
Havan, or the sacred fire ceremony, is a vital component of Arya Samaj marriage rituals. The sacred fire represents purity and is considered a witness to the couple's vows and promises. The bride and groom circle the fire while reciting mantras, symbolizing their commitment to leading a virtuous and righteous life together. The offerings made to the fire are believed to purify the surroundings and bless the couple with prosperity and happiness.
Arya Samaj Marriage is the most uncomplicated way of getting married in a short time without traditional formalities
Contact Pradeep Kumar and Company for Arya Samaj Marriage, Court Marriage, Sale Deed Registration Ghaziabad, Power Of Attorney, Birth Certificate Ghaziabad
Contact Us For Arya Samaj Marriage Ghaziabad Uttar Pradesh Delhi NCR
Pradeep Kumar & Co.
Address: 725, Satyam Enclave
Near Rakesh Marg, Ghaziabad-201001
Phone: 9213727837
Website: 
www.marriage-registration.in