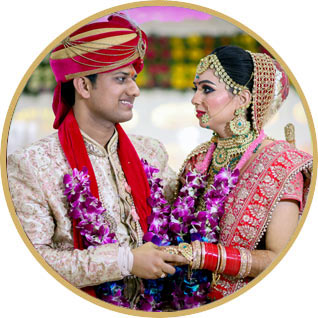 ARYA SAMAJ MARRIAGE IN GHAZIABAD, DELHI, GURGAON, NOIDA
Arya Samaj marriage is open to all people. People of any caste, creed or religion can opt for arya samaj marriage. Arya samaj marriage is basically a simple affair. The certificate issued after the marriage can be produced for marriage registration in marriage registrar's office. It is very much different from the glitz and glamour of traditional weddings. The marriage is performed in the presence of sacred fire which is the most meaningful source. The priest or pandit chants the mantras and explains their meaning to the couple.
Many people opt for arya samaj marriage as it is as valuable as traditional marriage and takes less formailities and time compared to normal wedding. It is also best option for people who are not strict followers of traditions and customs of society.
The main rituals of Arya Samaj Marriage are as follows:
Madhuparka
Kanyadan
Havanv
Pani Grahan Sansakar
Aashirwad


Arya Samaj Marriage is the most uncomplicated way of getting married in a short time without traditional formalities